April 2018 Promotions
WOW! We have so many amazing things going on this April, please make sure you read everything and don't miss out!
EARTH DAY IS APRIL 22, 2018
In honor of EARTH DAY, Aveda & Pyara have set aside the whole month to love.  Celebrate and help raise funds to protect the earth and its people.  Did you know: the lack of CLEAN WATER is a threat to survival for 700 million people EVERY DAY!
Join us this April and help us protect CLEAN WATER at home and around the world.  100% FOR CLEAN WATER!
As part of Earth Month in April Aveda donates 100% of the purchase price ($14), of their signature limited-edition light the way candles to Global Greengrants Fund for water-related projects in 85 countries.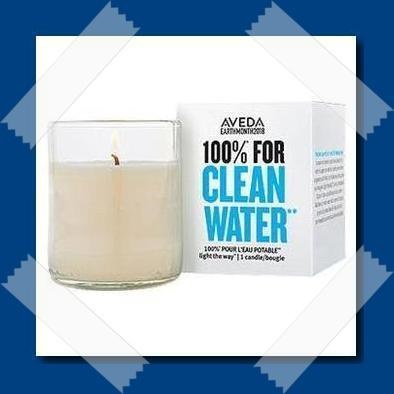 ---
You can also join us locally to STAND UP FOR CLEAN WATER:
PYARA'S BENEFIT NIGHT AT FLATBREAD CO.
JOIN US TO PROTECT CLEAN WATER ONE PIZZA AT A TIME!

DINE IN, TAKEOUT, OR CURBSIDE we got you covered so no excuses and come out to Flatbread Co.  They will be donating a portion of every flatbread pizza purchased on this evening to our Earth Month partner the Clean Water Fund.  Not only is this such an easy way to contribute, but a delicious one too!!!
In addition to great food and drinks, we will have door prizes, raffles, gift baskets and more.  There will be something for everyone.
TUESDAY, APRIL 17, 2018
5:00 PM-9:00 PM
FLATBREAD CO. 213 Burlington Rd., Bedford, MA
781-275-8200
---
 

PYARA BAKE SALE
BURLINGTON: APRIL 27th-29th
CAMBRIDGE: APRIL 21st-22nd and APRIL 28th-29th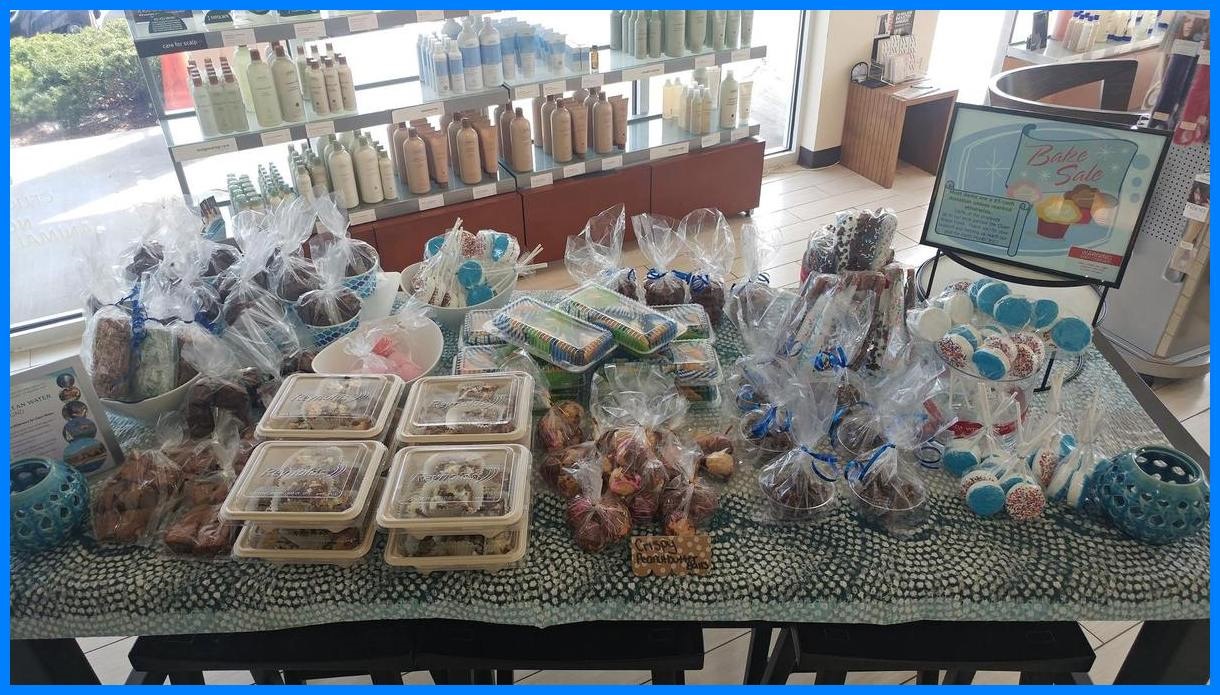 Our team's personally prepared baked goods bundled in small packages and offered for only $5 a pack.  There will be something to tempt everyone's craving for a yummy treat!
---
PYARA'S ANNUAL EARTH MONTH SERVICE-A-THON FUNDRAISER FOR CLEAN WATER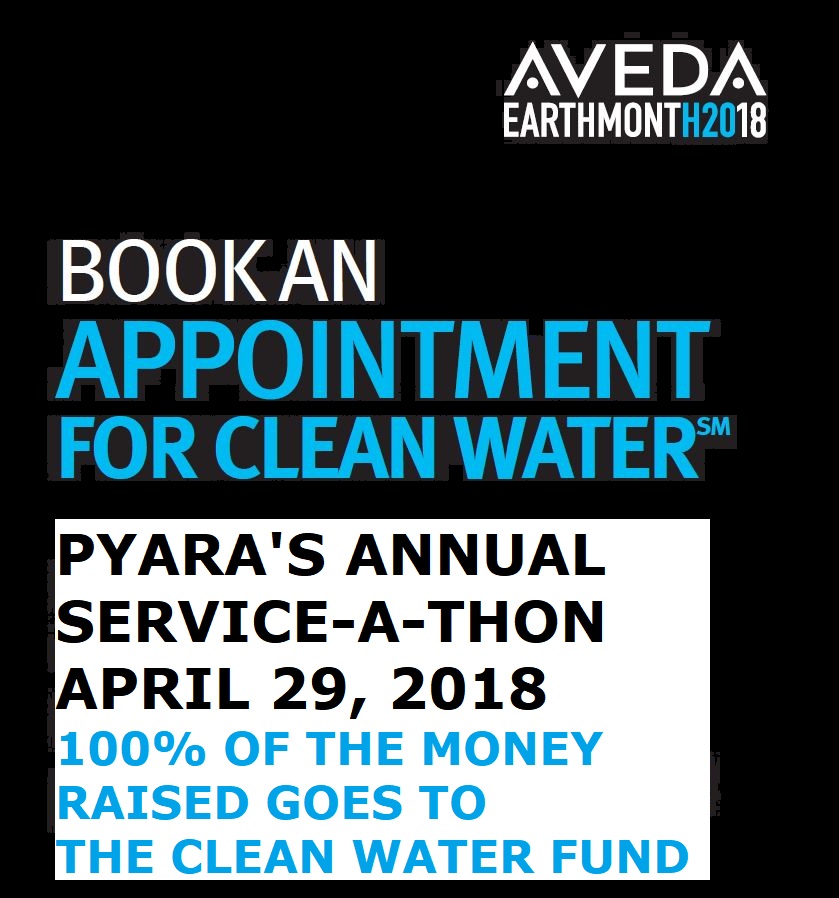 APRIL 29th 10:00 AM-6:00 PM
There is limited availability so be sure your appointment is reserved before they are all gone!  Services are offered at special prices on this day only and 100% of the proceeds will be donated to our Aveda partner the Clean Water Fund.  Our team is passionate about Earth Month and everyone working on this day will be donating their time to provide the following signature Aveda services:
Haircuts Junior=$35 & Haircuts Senior/Master=$50
Aveda Manicure=$18
30 Minute Tulasara Facial=$45
30 Minute Aveda Aroma Massage=$35
*We will not be booking any other services on this day, April 29, 2018.  The above services cannot be booked online, you will need to call us directly.  If any extra time or styling is needed we will not be able to accommodate those type of appointments due to time limits.  Cannot be combined with any other promotions or discounts and certain restrictions may apply.  Due to the high demand, these services are offered on a first come, first serve basis.  Our 24-hour cancelation policy applies to these appointments and no-shows or cancelations less than 24-hours notice will be charged at the full price.  If you are charged for canceling with less than 24-hours notice or do not show for your appointment that money charged to you will be donated to the Clean Water Fund.  
---
Also happening during April 2018…
-Custom Themed Gift Basket Raffle choose between our Movie Night and Mexican Fiesta.  These gift baskets are valued at $150-$175 each.  Raffle Tickets can be purchased at our front desk $5=1 ticket, $10=5 tickets.
-Weekly prizes will be raffled off
-Spin our prize wheel for a chance to win amazing prizes, services and more…
---
20% off Select Service Providers in April 2018

Our team has areas of expertise that, in combination, offer our guests a truly unrivaled experience.  Book a new appointment for this April with our new talent to receive 20% off!  Below are the team members included:
Burlington Spa Team:
Joe Evenson: Licensed Massage Therapist
Leah Ege: Nail Therapist
Cambridge Spa Team:
Karissa Eustache: Licensed Massage Therapist
Yavanni Headen: Esthetician
Sarah Kuczmiec: Esthetician
Burlington Salon Team:
Katie Jacobs: Junior Stylist
Karissa Moon: Junior Stylist
Denise Mendez: Junior Stylist
Cambridge Salon Team:
Debbie Britto-Chaves: Junior Stylist
 *You must call to make a new appointment and mention this promotion at that time.  This offer is only valid for the team members listed above and for new appointments booked and received on these dates 4/2/18 and 4/30/18. For NEW appointments only. This promotion will not be honored for appointments booked or changed to after  4/30/18. Cannot be combined with any other discounts. Discount cannot be applied to Membership pricing, hair extensions, Keratin, perms or any Earth Month services on 4/29/18.  Gratuities are not included.  A valid credit card is required to hold any future appointments and our 24-hour cancellation policy applies to all booked appointments at the full value of the services. 
---
LIMITED TIME PRICING ON HAIRDREAMS NANO EXTENSIONS!!!
Order your Hairdreams Nano Extensions by April 30th, 2018, and receive 25% off* the standard pricing.  Discount only applies to the actual Hairdreams Nano Extensions.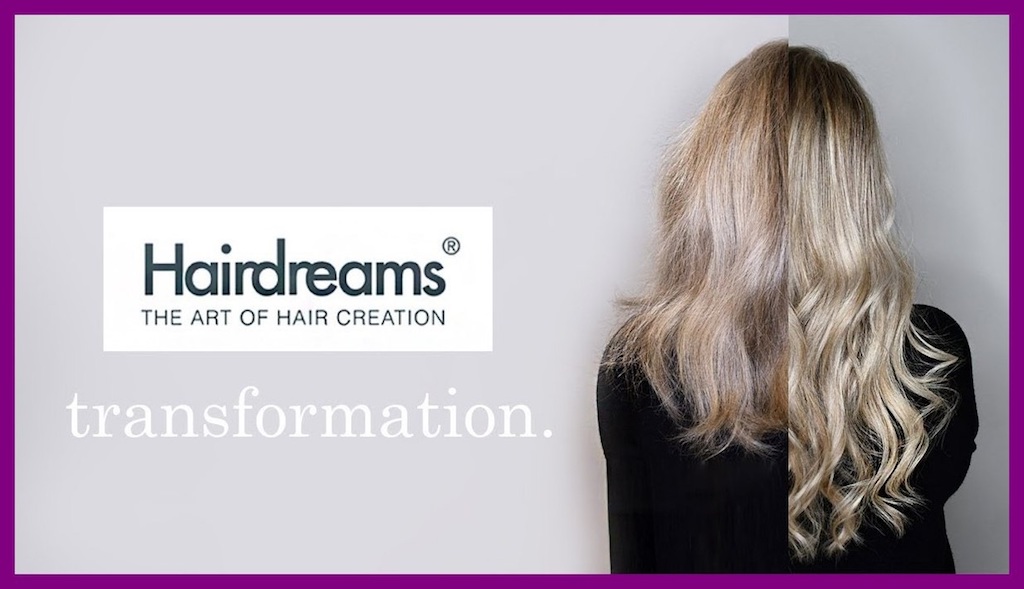 The Laserbeam NANO System by Hairdreams is the most innovative method to create natural fullness and length in a very gentle manner.  Hairdreams Extensions 100% real human hair combined with the patented NANO Technology that invisibly integrates into your hair providing amazing results.  The additional hair strands become a natural part of your hair.  You can style your hair as you normally do, but with even more styling possibilities.  No matter what you are doing (sports, sauna, swimming, etc.), your Hairdreams hair can withstand any activity and always look perfect.
*Terms and Conditions: Discount is for Hairdreams Nano Hair Extensions only. We book for a 45 minute $75 consultation, the $75 does go toward your hair creation service.  During the consultation, you can ask your stylist all your questions and talk about your dream hair.  You will be able to touch the hair and see available lengths, your stylist will also match your hair color and give you an accurate quote.  They will also go over all maintenance and you will be required to sign a waiver.  If you book your appointment you will be required to pay a deposit of half.  Cannot be combined with any other offers or discounts.  Consultations and services are booked based on availability with any of our Hairdreams certified Stylist.  Once your order is placed you can book the actual date & time of your Hairdreams Nano appointment for a date and time that meets your needs and does not need to be before the deadline of 4/30/18.  This is a limited time offer and will be given on a first come, first serve basis. The 25% discount is taken off the first actual Hairdreams Nano hair extension order.  Restrictions may apply and will be discussed during your consultation.  Offer is only valid at Pyara Spa and Salon locations until 6:00 PM April 30, 2018.  
---
AVEDA PURE PRIVILEGE APRIL 2018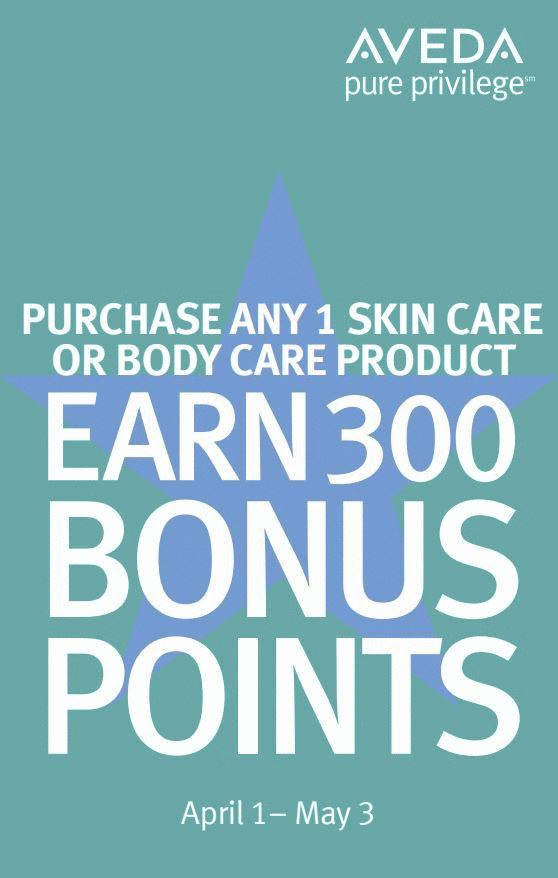 Limit one per member. Not transferable. Offer valid April 1st-May 3rd, 2018.  Offer excludes travel sizes and samples.  Not valid with any other bonus or double points offer.