Great Summer Nail Colors & Nail Designs
As summer approaches, it's time to ditch the dark nail colors and embrace the bold hues of summer or the soft pastels of romance. At Pyara Spa and Salon, enjoy one of our Signature manicures or pedicures and enjoy a new look for your nails as you enjoy the summer heat while showing off those nails in cute sandals!



Spearmint, orange, and bright yellow are some of the vibrant colors trending this season while the timeless classics such as white and grey are still going strong. Nail designs such as color blocking, abstract art, and rainbow nails are also adding to the vibrancy of summer. This season is about femininity and strength!



Fresh Spearmint. This light green hue is an amazingly feminine shade that has a dreamy quality to it. It's been a while since it's been an "in" color but this summer, it's refreshing, playful, and the hue fits every skin tone. It's the perfect pop of color to remind us to take advantage of the summer fun and embrace lighter lacquers. It's a great color to pair with white, beige, and blue summerwear but is also the perfect complementary tone for many summer styles.



Vivid Yellow. Few colors make as much of a statement as vivid sunshine yellow. Yellow is associated with hope, happiness, and enlightenment – and after this last 18 months – we need more of this positivity found in yellow. Wear it as often as you please to show off your fabulous manicure and show everyone that you're ready to shine this summer.



Coral Red. This is the perfect red for summer. It demands attention while being a timeless and classic choice for your nails. This shade of red is an intense color but one that can be worn to a formal event or a beach BBQ. It's not the deeper shades of red found in the winter, and it isn't the softer pinkish-red tones – it's the perfect blend to show off your Pyara Spa and Salon pedicure.



Shades of Blue. Blue is one of those colors that can be flattering on any nail shape and any length. One of the more creative nail trends of summer 2021 is embracing shades of blue. From a rich navy or deep cobalt on your pinky finger to a soft pastel blue on your thumb – and every shade in between – this look will turn heads and garner attention to your nails.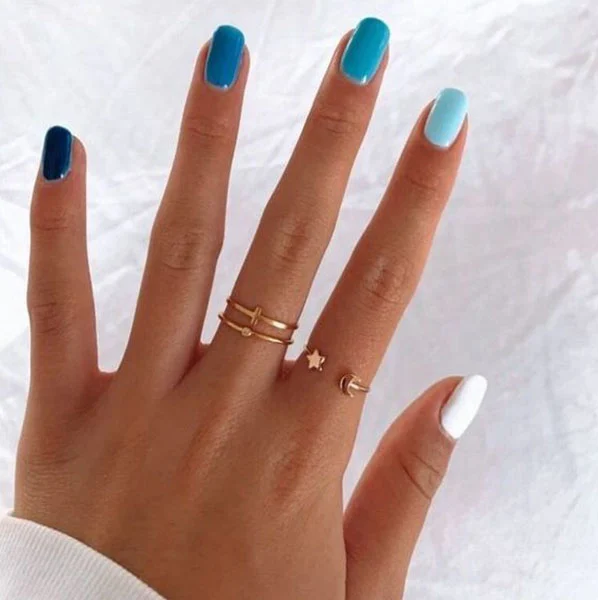 Abstract Delight.
Want some attention? Let our nail experts do some abstract nail design this summer after your manicure! Use bold, vibrant complementary tones or pastel shapes over a clear polish. We can do soft and pretty florals, abstract shapes in combinations of blocks and thin lines, and gradient tones - the choice is yours on how wild and crazy you want to go.
Nails of the Rainbow.
This blend of pastel shades – mint, pink, lilac, baby blue, and soft yellow will show off your fun side while giving your nails just the right amount of summer festiveness and sass. Nails are a great way to show off your creativity and at Pyara Salon & Spa, our nail technicians are experts at freehand design.
Round Nails.
Classic is in this summer and that goes for nails too. This classy, straightforward nail shape is versatile. They attract just the right amount of attention whether you go with a vibrant hue or pastel. They are also on-trend right now with a neutral shade, white, or shade of grey. They have a natural, down-to-earth style and are low-maintenance and less likely to chip than other shapes.
Color Blocking.
This is a fun design that can be made with bright, vibrant colors or soft pastels. We'll take two of your favorite colors and color block your nails to give off a bright contrast that says sassy, cool, summertime fun.
Let our nail experts at
Pyara Spa and Salon
give you a new set of nails, a new color, or a nail design to celebrate the vibrancy of summer. Give us a call at 781-270-9200 to book your appointment. Our salon is located at 101 Middlesex Turnpike in Burlington or 1050 Massachusetts Ave. in Cambridge.